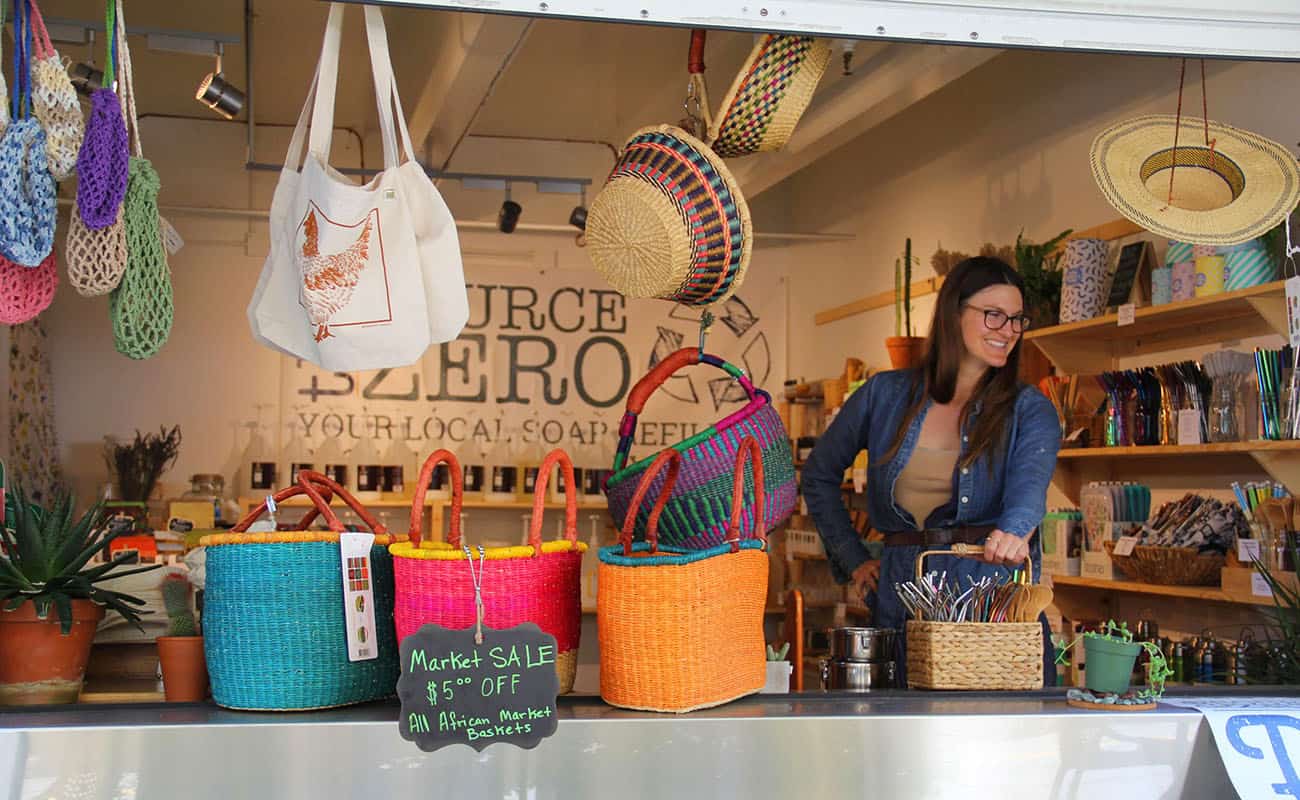 Come explore the neighborhood near 188 West St James, take a moment to shop small and support a local maker at Moment SJ. A new Pop-up awaits in an open-air setting near many eateries and bars in downtown San Jose during the summer at the Sidewalk Shop. Every Saturday this summer from 12:30pm to 5pm, San José Made will bring new local makers, independent artists and creative small businesses to the sidewalk parklet just outside of San José Made's MOMENT micro-retail storefronts in San Pedro Square.
The storefronts are currently featuring Kristina Micotti, the SJMADE Pop Culture Store, The Source Zero and Thrill of the Luxe.
Kristina Micotti is an illustrator and designer from the San Francisco Bay Area. Her illustrations are playful, bold, and simple. She likes to create anything that makes her laugh. Get to know Kristina Micotti and her work on Instagram at @kristinamicotti.
The Source Zero shop at MOMENT features a comprehensive retail experience crafted and curated by Ashley Merz, designed to empower and enable you to live a more sustainable—perhaps zero-waste—lifestyle. Explore fresh ways to live a sustainable life and get tips from Ashley by following The Source Zero on Instagram at @thesourcezero.
Thrill of the Luxe is a Latinx woman owned small business focused on rescuing secondhand clothes headed for the landfills. Thrill of the Luxe is all about the thrill of finding amazing gems but with a modern twist. Not to mention buying secondhand reduces some of the stresses placed on our Earth. Follow Thrill of the Luxe on Instagram at @thrilloftheluxe.
The SJMADE Sidewalk Shops will be open every Saturday with new small businesses featured each week. Some upcoming makers that will be featured include: Splendid Colors, Bee Happy Today, Vintage Fusion Jewelry & Glassware, Turq and Terra Designs, le petit elefant, Buen Camino Jewelry, Scented Designs, DANESSA, aromatheraputty, True Blue Indigo, Bleaching Vintage, and many more!
Meet the makers and enjoy an alfresco lunch just outside our doorstep in sunny San Jose. For visiting guests, the shops are located at 60 N. San Pedro Street with free on-site parking for the first 90 minutes. Enter the on-site parking lot at 45 N. Market Street. View an upcoming schedule at their website: Sidewalk Shop.
188 West St James is now selling and summer is a great time to explore urban living in San Jose! Discover the quaint shops and spaces that make up the fabric of downtown San Jose. Join us for a virtual or in-person tour by appointment by contacting sales at info@188weststjames.com or (669) 888-7888.
---