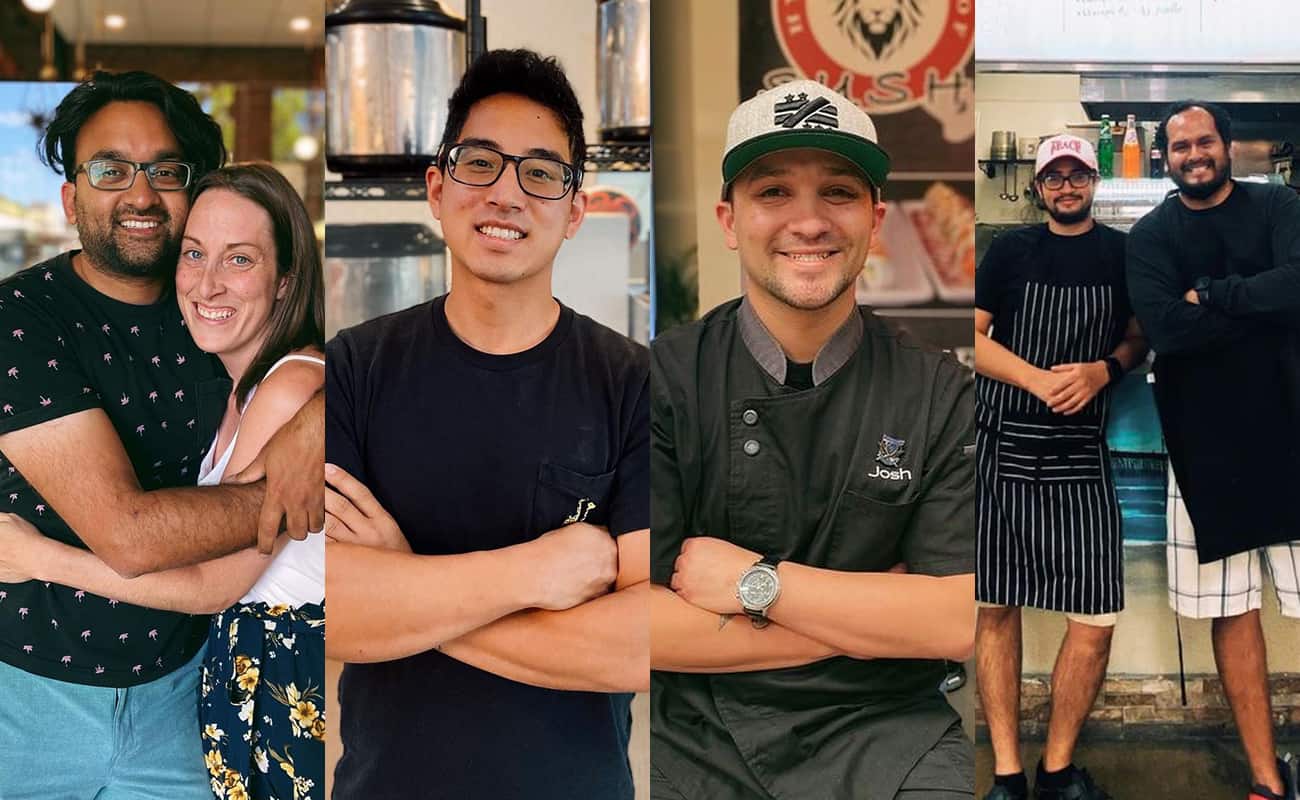 When you live at 188 West St James, San Pedro Square Market is your playground. Literally across the street and steps from your home, the popular venue offers a wide variety of dining and lifestyle options, including live music, games days – plus a range of international cuisines that will keep you coming back for more.
San Jose Square Market is more than just a dining spot, it's a destination where you can meet up with friends and co-workers to catch the Sharks game or unwind after a long day. Here, you can count on a familiar, friendly faces providing you with delicious food and refreshing drinks. Get to know the people behind the market in this fun series brought to you by San Pedro Square Properties.
Meet Lauren and Sam, the owners of Voyager Craft Coffee! They are fun, community-centric and creative. Starting out of a trailer, the pair would stop in Farmers' Markets and office complexes in San Jose. With roots in the area, they wanted to build something community based in San Jose. The pair founded their 1st brick and mortar location at Stevens Creek 5 years ago and expanded their 2nd location at The Market in June 2019, which was originally their dream spot to open. With a passion for bringing community together with coffee, they are inspired by traveling and exploring new cultures.
Q: What is your favorite drink you make?
A: Bali pour over; it's the most vibrant & fruity coffee! Sam's favorite is the Bali Latte which is inspired by Indonesian cuisine with notes of cayenne, coconut & honey. It's a cascading waterfall of deliciousness!
Meet David, the owner of Urban Ritual Café! With infinite creativity and passion for progressive Asian-inspired drink recipes, David enjoys the San Jose night life with friends and has a lot of memories of San Pedro Square as he grew up in the area.  Described as unique, artisanal and craft, Urban Ritual is a creative outlet for him and his recipes are inspired by travel and experiences. Here are a few more topics covered by their Q/A.
Q: What is your favorite drink you make?
A: The Creme Brûlée!
Q: Give us a few fun facts about yourself:
A: I am forever young. This is my 3rd business venture. I am a tinkerer at heart and am an aspiring bartender. I like to make people smile.
Meet Josh, the owner of Hyland Sushi. Continually inspired and driven to provide his unique sushi rolls & recipes to all, Josh describes Hyland Sushi as love, creative and quality. He provides a traditional cuisine with a new flare. With a love of Japanese culture for its structured nature, quality ingredients matter. His recipes are inspired by special people in his life. Josh describes his favorite part of San Pedro Square: "The unity & family. This place has given me the opportunity to follow my dream of owning a restaurant when the odds were stacked against me."
Q: What is your favorite dish you make?
A: Mama V roll. This roll is named after my mom who always supports me. We created it in her kitchen before I opened the restaurant. It has raw salmon, cream cheese & a banana pepper inside topped with wasabi sauce & a wasabi rice cracker. She always snacks on wasabi crackers & I thought of the banana pepper/cucumber substitution in her kitchen.
Meet Arturo and Juan, owners of Jora Peruvian Food. They are passionate about their Peruvian roots and their wealth of culinary knowledge they've learned from back home. They cook each item as if they were cooking for family. Fostering a love of food from their home country, the pair wanted to share that with the world. "When we met each other, Juan was more than impressed when he tasted my ceviche. Juan has an accounting background & I had been working in the industry for a while as a side job but always wanted to make it something more. Juan asked me to be his partner in opening Jora as his Chef,", says Arturo. They both love the variety of foods found at San Pedro Square.
Q: What is your favorite dish you make?
A: Our ceviches because of the base, which is our special tiger milk recipe. It requires attention to detail to find the right balance of acidity & flavors. From north to south Peru, there are mountains, jungles & coastal regions; techniques on making ceviche vary throughout Peru, but the ingredients remain the same. After WWI and WWII, many people began to emigrate from China, Japan, Italy & Spain. Peruvian Ceviche and other Peruvian dishes are influenced by these cultures to create culinary delights found nowhere else in the world.
Follow along to meet more of your neighbors as we feature your neighborly faces behind San Pedro Square Market's Urban Momo, Loteria Taco Bar, Pasta Fresca and On a Roll next month!
---