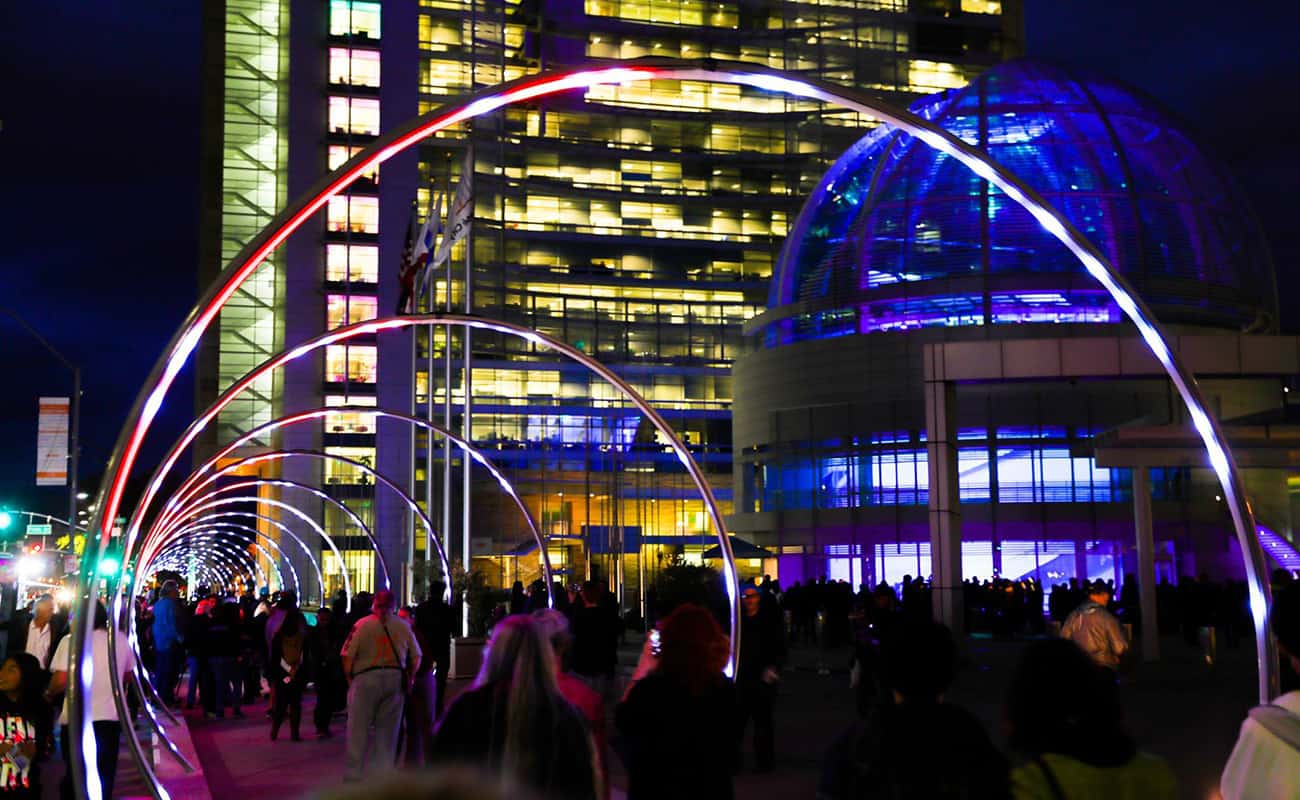 The popular art installation, Sonic Runway, has returned to downtown San Jose and will be staying for a while. Plans for an extended display have been in the works since early 2020 and that effort is coming to fruition.
"One of San Jose's most popular attractions in recent years was "Sonic Runway," the art installation where visitors could walk through a path of 25 sound-activated, illuminated arches in front of San Jose City Hall. Well, get your strutting shoes out of the closet because it's coming back in November — and this time it's staying for six years." ~ Mercury News
Sonic Runway is a light-art installation that visualizes the speed of sound created by a team of artists including lead artists Rob Jensen and Warren Trezevant with design by Stockhausen. The artwork converts audio signals to a pattern of lights that shoot down the corridor of arches at the speed of sound, (1235kph/767 mph).
The Runway's arches are each lined with 554 addressable LED's. Live audio input is analyzed and converted to intricate patterns with sound and lights in sync. Standing at the front of the Runway, the beats of music visually ripple away from the participant.
Showcasing the city's commitment to public art, the return of the amazing installation and its embrace of the fusion of arts and events was the topic of a news release by the City of San Jose:
"Sonic Runway exemplifies the power of public art to inspire and bring people together to celebrate creativity, and express their own," says Director of Cultural Affairs Kerry Adams Hapner. 
"In addition to providing an engaging experience for City Hall Plaza visitors, Sonic Runway will again serve as a canvas for arts and events such as live and recorded musical performances, fashion shows, video and photography, and will appear in countless selfies."
In bringing Sonic Runway back to City Hall, artists have made updates to the design. The new installation will match the approximate footprint of the previous temporary installation at City Hall Plaza, stretching 432 feet along the East Santa Clara Street sidewalk between Fourth and Sixth Streets, less than a mile from 188 West St James. The long-term design consists of weighted steel base plates for the arches, which have a low-profile, beveled edge that allows for ease of flow between the arches for pedestrians, wheelchairs, and bikes. The resulting look is elegant and clean, matching the modern architecture of the City Hall buildings.
Get your cameras ready this fall. The installation proves a popular spot to snap at night. See for yourself. Book an afternoon tour at 188 West St James and make an evening of it in downtown San Jose. With San Pedro Square at our feet there are plenty of dining options before your art walk.
Photo Credit: Sonic Runway on Facebook
---