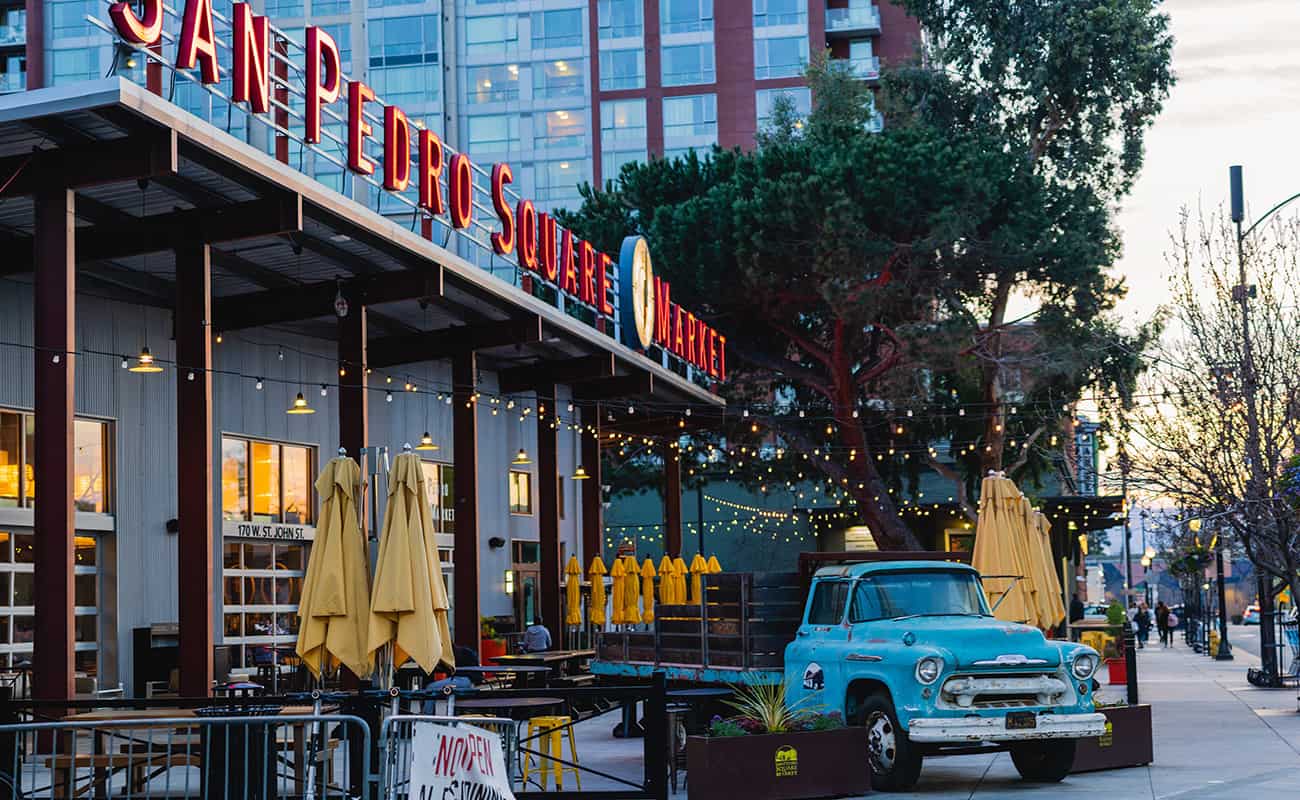 Literally across the street from your 188 West St James home, San Pedro Square Market offers a wide variety of international cuisines that will keep you coming back for more. Enter and discover a dozen delicious reasons why you should start your culinary adventure today in San Pedro Square. These are some of the top picks from EaterSF.
The Californication at Crepes & More. This savory crepe features Chipotle chicken, pepper jack & cheddar cheese, avocado, corn, onions, tomatoes, jalapenos, Chipotle aioli with a side of sour cream. "There's something satisfying about watching someone smooth crepe batter across a hot plate. And when the generous heaping of toppings are finally folded into the welcoming arms of a golden-brown blanket, it's like coming home."
Ceviche and Lomo Saltado at Jora Peruvian Food. If Jora (pronounced "ho-rah") is your first venture into Peruvian cuisine, you'll want to order the country's national dish: ceviche. The Ceviche Clasico features catch of the day, classic tiger's milk, canchita chulpi, choclo, yam. For your main, the Sauteed Beef Tenderloin or Lomo Saltado is sautéed beef tenderloin, tomato, aji Amarillo, red onion, potato fries, Peruvian white rice, lomo saltado sauce. "You'll taste the care behind the meal because Arturo and Juan, the Peruvian partners behind Jora, operate under the motto, 'we cook as if we're cooking for family'."
Raspberry Hang Glider at Three Sisters. Vibrant and lively, Three Sisters specializes in handcrafted cocktails and boasts a robust selection of whiskies, as well as local craft beers and wine. "If you turn back to the bartender and ask about the most popular drink on the cocktail menu, he'll steer you toward the Raspberry Hang Glider. If you're looking for a sweet, refreshing drink, this blend of raspberries, vodka, and lemon juice, topped with soda should be just the thing."
Joe's Special at Pizza Bocca Lupo. This is the first Neapolitan pizzeria in the South Bay that bakes made to order wood fired pizzas, hand stretched and made from scratch in a hand-made brick oven imported from Naples. "For the pizza purists, the restaurant offers a satisfyingly simple margarita, its modest covering of sauce, cheese, and basil leaves allowing you to focus on the skill of pizza making without the distraction of toppings. But if you like a pizza with a little more oomph, request Joe's Special. Your piping hot pie will come adorned in sausages, basil leaves, and mushrooms."
Carbonara at Pasta Fresca. Here you'll find Italian cuisine, pasta and sauces made in-house from scratch using locally sourced ingredients. "Shawn McKenna, the restaurant's owner, spent a stint working at a Michelin star restaurant in England in the 90s, and he makes a mean meat lasagna. But his go-to recommendation is the carbonara: pasta made from scratch, then cooked with egg yolks to thicken it to its customary creamy texture."
Chicken Momo Dumplings at Urban Momo. The founders and chefs perfected the recipes over several years of cooking at various restaurants across Nepal, in the Himalayas during expeditions and around the world. These signature Nepali dumplings are served with traditional dipping sauce (achaar). "Accompany your momo with a bowl of gorkali chili, a pleasing mixture of stir fry vegetables, meat, and spices in a robust sauce."
Lobster Roll at Anchors. With more than 20 years of experience bringing to your table the authentic, fresh and exotic dishes with true taste of the sea, set your sights on anchor. "You'll be tempted to settle for the classic comfort food of fish and chips, but we encourage you to order their lobster roll. A buttery French roll (soft on the inside, toasted on the outside) is loaded with generous chunks of lobster to fulfill your crustacean cravings. And they won't drown it in mayo so you can still taste the ocean. This roll pairs perfectly with a spicy thatch of Cajun-seasoned fries."
Tokyo Latte at Voyager Coffee. At Voyager, they roast, brew, and serve some of the best coffee on this green earth, bringing new, intense and unique flavors to coffee to an environment unlike any other cafe. "This delectably floral blend of espresso, cream, house-made vanilla, cherry blossom water, and brown sugar will transport you to springtime in Japan and its flowering trees. If you order it hot, don't forget to request rainbow latte art."
Hella Fried Chicken Sandwich at Hella Good! Their unique mid-century decor will transport you back to the funky '50s and '60s. So as your tastebuds are dancing, you might be too! The fried chicken sandwich has  pickles, red pepper jam, secret sauce, and coleslaw. Pair up your sandwich with a side a fries and Straus Family organic cream milkshake.
Lady Peralta at Alma Tequileria. A new San Pedro Square Market Bar offering featuring a diverse selection of tequila, mezcal, traditional and signature cocktails. Try the spicy strawberry margarita called "The Lady Peralta" which is a nod to the group of settlers who established the San Jose area. Made with arette blanco, strawberry – jalapeno cordial, cappelletti, hellfire bitters and mint – this refreshing drink is delicate but delivers a subtle kick.
Crème Brulee at Urban Ritual. Urban Ritual is an American brand that aims to bring unity to everyone through a common daily routine—coffee and tea. Owner, David's favorite drink to make is the Creme Brulee. This delicious drink features housemade creme brûlée, honey boba, classic milk topped with crackling torched raw sugar.
Rice Flour Hotdog and Matcha Donut at Mochinut. Mochi donut is a happy union between Japanese rice cake (mochi) and American-style doughnuts, which originated in Hawaii. The matcha flavor is a particular favorite among guests. Extra hungry? The Korean rice flour hotdog is a hot dog coated in rice flour batter that comes with a choice of spicy sausage, mozzarella, or 1/2 dog and 1/2 mozzarella cheese. The batter-dipped sticks are then covered with optional toppings such as diced potatoes and breadcrumbs, and deep fried to order.
San Jose's first food hall has gained recognition as a thriving community hub with over a dozen food and beverage vendors – all within reach from home at 188 West St James. Our round-up was inspired by SF Eater article,"The 8 Best Things to Eat and Drink at San Pedro Square Market".
Image credit: Joseph Sintum
---