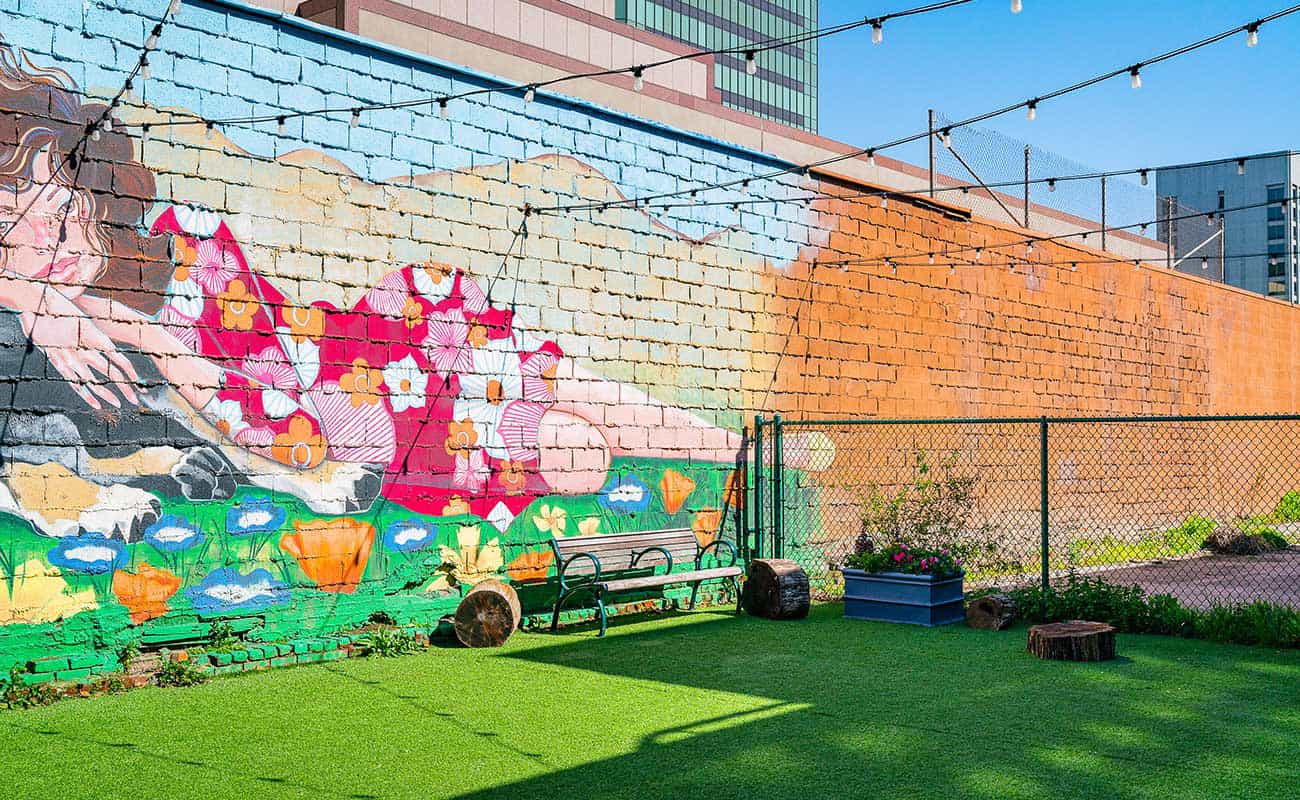 Life at 188 West St James in the spectacular urbanism of San Jose enjoys the very best of downtown San Jose conveniences mixed with a year-round temperate climate and easy access to open-air amenities – making it a pup paradise. The City of San Jose is a place for dog lovers to soak up the sun and have fun with plenty of parks and trails for walking, playing and exploring. We've gathered a few places around town to get you started:
Enjoy a short walk to Hart's Dog Park in downtown San Jose, located at 194 West Santa Clara Street, which includes a 2,000 square feet dog park with double gate, artificial turf, benches, decorative (and energy-efficient) lighting, planters and creative tree stumps for play. Bag dispensers and trash cans are located by the gate, so grab some as you go in. A beautiful mural on the wall by local artist Tom Colla gives the park its name – Hart's Dog Park – named after a former long-time downtown department store. The mural depicting a loving pet parent and their pooch. The Hart's Dog Park is a great little canine community hub for the pups of San Jose to romp and play off leash!
"This is by far the cutest dog park I have ever seen & a fun place to enjoy with your dogs!" – Judith R.
SoFa Pocket Park Dog Park: More good news in downtown San Jose for dog owners, a new 2021 outdoor dog park opened in a formerly empty parking lot on South First Street between the Institute of Contemporary Art and the San Jose Museum of Quilts and Textiles. The park is open 7am to 8pm, daily.
Take a pedicab ride with your pup in tow. You and your four-legged pal can sit back, relax and enjoy the city as you cruise around downtown San Jose on Eco City Cycles and spot over 20 murals created over a 23 year span.
Ryland Dog Park is tucked beneath the underpass bridge at North San Pedro Street and North Market Street. This simple spot has loads of shade for warm San Jose days with potted plants and a bench for lounging while your pup plays. The park is decorated with murals on the wall, an arch leading into the park and cute dog cutouts built into the fencing.
Grab a bite in the open-air across the street from 188 West St James at San Pedro Square Market, where well-behaved dogs and their human companions are always welcome or enjoy one of the many dog-friendly patios and pubs around town. Get your pup a tasty treat from Biscuits – Give a Dog a Bone Dog Boutique or something special from Gussied Up Dog Boutique where you can get clothes, toys and homemade dog treats.
Santana Row is an outdoor shopping center where you're welcome to walk around and browse with your dog. Download a list of Pet Friendly Locations Guide from around The Row.
Make your way to Delmas Dog Park at Park Avenue and Delmas Avenue, where you and your pup can meet new friends for a play date. This free-standing park measures just over 17,000 square feet and includes many dog-friendly amenities including a completely fenced and double-gated entrance, decomposed granite walking path with bark-mulch dog area, drinking fountains with dog bowls, mutt mitts, security lighting,  tables and benches.
Additional dog parks include: Jeffery Fontana Park, Butcher Dog Park, Olinder Dog Park, Watson Dog Park, Miyuki Dog Park, Raleigh Dog Park + Saratoga Creek.
Take a hike, walk or run. Pack your water and snacks, lace up your shoes, leash up your furry friend and get on the path to adventure at these San Jose open space spots:
Guadalupe Oak Grove Park. Home to 300-year-old oak trees, this 60-acre urban park has a range of paths from flat and level to mildly challenging, so it's a great choice for any dog.
Los Gatos Creek Trail. This 10-mile urban trail follows the Los Gatos Creek from Los Gatos to San Jose. The path is partially paved, part retired railroad bed, and part gravel path.
Santa Teresa County Park. Located in the Santa Teresa Hills ten miles south of downtown San Jose. This diverse 1,673 acre park, rich in history, offers spectacular views from its trails above the Almaden and Santa Clara Valleys.
Coyote Creek Trail. This trail is a hiking, jogging and bicycling trail along Coyote Creek and one of the longest trail systems extending from the Bay to the City's southern boundary. The Coyote Creek Trail provides views of the waterway, and urban and rural settings.
At nearby 734 South 1st Street you'll find Downtown Dogs Resort and Spa where you can pamper your pooch, enjoy convenient day care, training, overnight stays and more. Looking for luxury boarding? Wag Hotels pet resort in Santa Clara is open 24/7 every day of the year and features climate-controlled, private rooms furnished with plush, hypoallergenic bedding and is conveniently nestled just off the 101 freeway. They feature an array of services and amenities that can be completely customized for your unique pet.
Every dog deserves a good home. Since 1950, Andy's Pet Shop has been a San Jose landmark. Providing quality advice and products for your pets, Andy's is an adoption center stocked with 100% rescued, homeless or unwanted pets. The seek the right pet for your home and the right home for each pet.
Watch out Pupperazzi. There are so many spots around town to make your pal Insta-famous, and 188 West St James is certain to hold some amazing photo backdrops too. Let's create a community for our canine residents. Help us spotlight your best friend by introducing your sidekick to us, tag us in your favorite photos on Instagram @188WestStJames #188WestStJames.
---