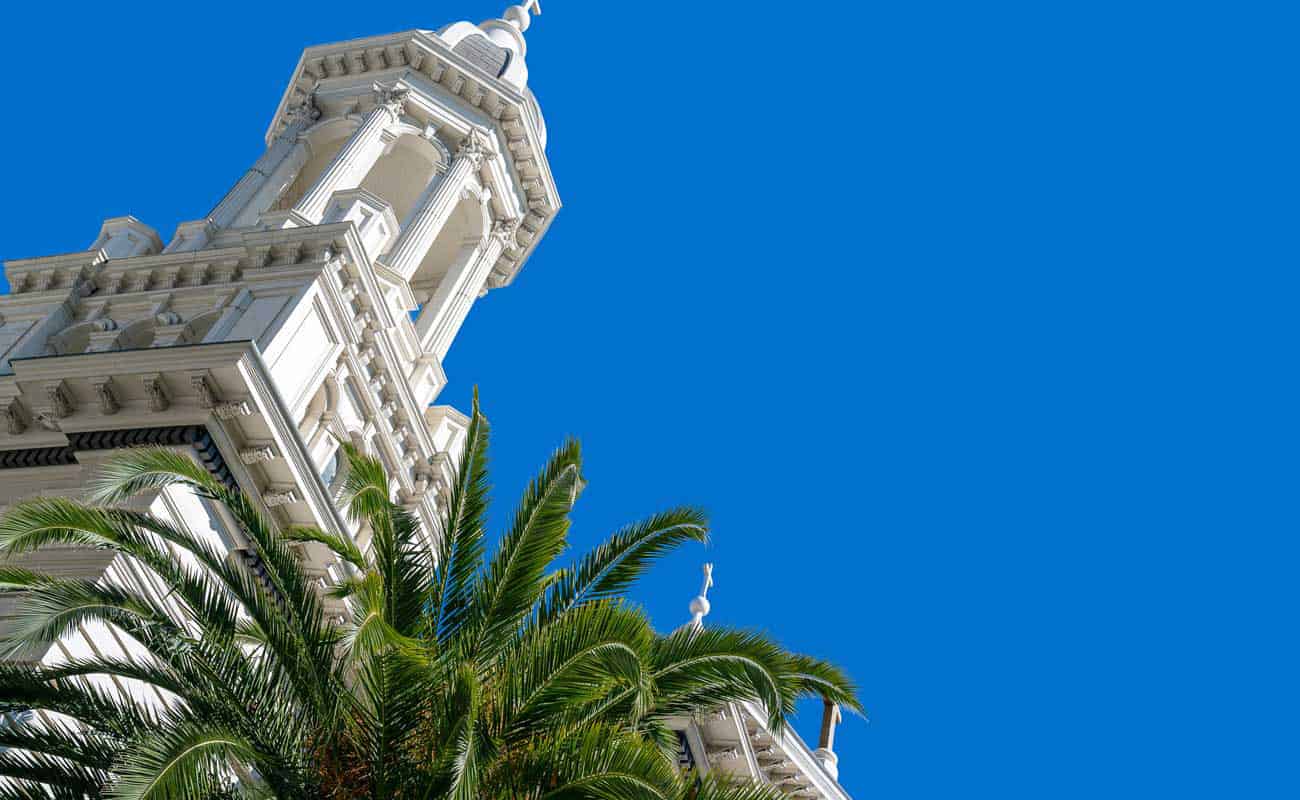 Despite being one of the oldest cities in California, San Jose is active and evolving with dozens of developments currently underway including new office space, retail, hotels, housing and more. Known as Silicon Valley's City Center, the ever-expanding neighborhood of downtown San Jose is as diverse and dynamic as it is inviting. 188 West St James boasts downtown living steps from historic San Pedro Square.
While San Jose's story is still unfolding and looking to the future, roots run deep and memories of the past can be found around every corner here. It's a city rich with history and ready to explore by foot and online. Peruse some nearby historical attractions and discover stories of San Jose's rich past.
California Theatre, 345 S. 1st Street
This beautiful theatre, originally built in 1927 and renovated and upgraded from 2001-2004, marries the opulence of its movie palace origins with state-of-the-art attributes.
Chavez Family Home, 53 Scharff Avenue
César and Helen Chávez raised their family in this home from 1951 to 1953 while Chavez labored at nearby apricot orchards. Chavez became the best known Latino American civil rights activist.
History Park, south end of Kelley Park at the corner of Senter Road + Phelan Avenue
This 14–acre gated park features 32 historic and replica buildings representing San Jose's past. Complete with paved streets, running trolleys and an old-fashioned ice cream shop, History Park offers the charm and ambiance of times gone by. Take a virtual tour.
Japanese American Museum of San Jose, 535 North 5th Street
Established in 1987, JAMsj grew out of a 1984-86 research project on Japanese American farmers in the Santa Clara Valley. The Japanese American Museum of San Jose showcases a unique collection of permanent and rotating exhibits chronicling more than a century of Japanese American history.
Japanese Friendship Garden, 1300 Senter Road
The Garden was built as a symbol of everlasting friendship between the City of San Jose and its Sister City of Okayama, Japan in 1965 and is patterned after the world famous Korakuen Garden in Okayama.
Montgomery Theater, 271 S. Market Street
Built in 1936, this venue retains its historic charm and offers audiences an intimate experience for every performance.
Peralta Adobe – Fallon House, 175 West Saint John Street
Boasting San Jose's oldest address this site was built in 1797 and located in the heart of downtown San José in San Pedro Square. The Luís María Peralta Adobe, illustrates San Jose's Spanish and Mexican periods. The 1855 Carmel & Thomas Fallon House is an example of early Victorian architecture. Find out more about the Peralta Adobe + take a virtual tour.
San Jose Improv Comedy Club, 62 South 2nd Street
Built in 1904, The San Jose Theater is the oldest existing theater in San Jose today and was declared a historical landmark in 1990.
San Jose Museum of Art, 110 S Market Street
In 1969—during an era of peace, love, and tie-dye culture—a small group of San Jose citizens gathered together to transform the beautiful old library (threatened with demolition) into a fledgling art gallery.
San Pedro Square Market, 87 N San Pedro Street
Alive with history, San Pedro Square's first restaurant opened its doors in 1972. Even more impressive, San Pedro Square is home to one of Spanish California's oldest settlements, the Peralta Adobe.
St. James Park, North 2nd Street
Located in downtown San Jose, this historic park dates back to the late 1800s. The centerpiece of the park, St. James Square, is included on the National Register of Historic Places.
The Tech Museum of Innovation, 201 S. Market Street
The first Silicon Valley startup was founded in 1939 when two Stanford University graduates, William Hewlett and David Packard, teamed up to create Hewlett-Packard. Explore more tech history online!
Winchester Mystery House, 525 S. Winchester Boulevard
This is an architectural wonder and historic landmark that was once the personal residence of Sarah Lockwood Pardee Winchester. Construction began in 1884 and didn't stop for 38 years until 1922.
Help us spotlight your favorite neighbors and feature your San Jose photos by tagging us on Instagram @188WestStJames #188WestStJames and sending us your suggestions. Check back often for the latest news and updates.
---