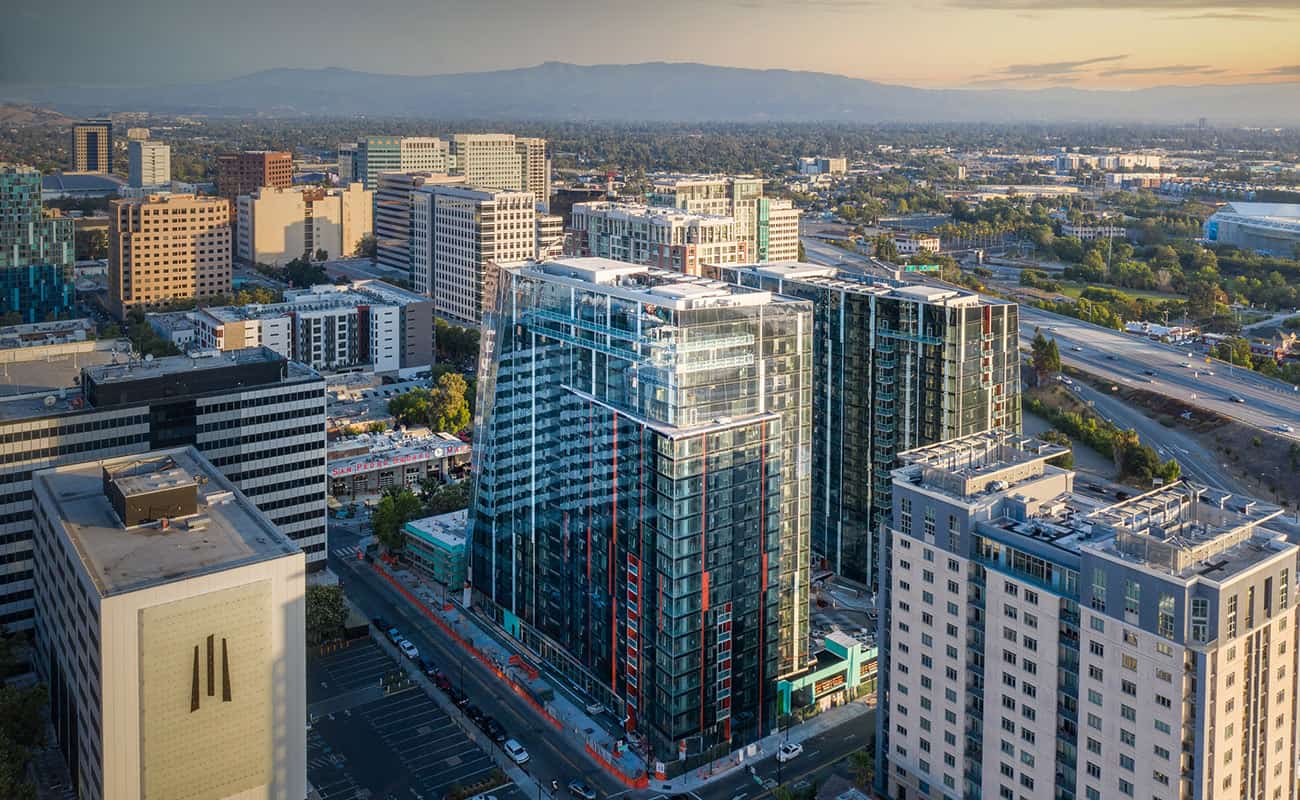 Living at 188 West St James offers downtown San Jose living and easy access to experience an abundance of offerings and attractions within close proximity to home. While our love for the downtown lifestyle is endless, we're counting the top 10 reasons why we love our location.
Culture at Your Doorstep. You can hit more than a dozen cultural experiences within about a mile from 188 West St James including the San Jose Museum of Art, San Jose Improv Comedy Club, The Tech Museum of Innovation, San Jose Civic, Hammer Theatre Center, Montgomery Theater, San Jose Museum of Quilts & Textiles, Center for the Performing Arts, Children's Discovery Museum, California Theater, Japanese American Museum of San Jose, and the San Jose Institute of Contemporary Art.
Foodie Adventures. San Jose's vibrant dining scene is one of the Bay Area's best-kept secrets. Travel a culinary map of flavors at downtown restaurants all in a single day. Let your itinerary include Petiscos and tapas – both with roots in the Iberian Peninsula, rich flavors of Oaxaca from Mezcal, award-winning Boston Style Clam Chowder from Scott's Chowder House, French-Vietnamese inspired cuisine at Élyse, globally inspired shareable plates with a curated wine and whiskey program at District, Enoteca la Storia's NY style pizza in San Jose's Little Italy, and locally sourced American fare at The Farmers Union. Don't miss a journey through the international cuisines at SPMS.
SPSM is Your Playground. Literally across the street from 188 West St James, San Pedro Square Market offers a wide variety of dining and event options, including al-fresco live music, trivia and game days on the big screen that will keep you coming back for more. It's a destination where you can meet up with friends and co-workers to catch the Sharks game or unwind with a specialty cocktail after a long day. San Pedro Social is adding 18,000 square feet of vintage arcade games, pinball, pool, a four-lane bowling alley, karaoke, full bar and private dining to the activated space at the market.
Lock Up & Go. 188 West St James is low-maintenance living at its finest. Skip the yardwork and bask in the sunshine poolside instead. When you want to get from here to there, just lock up and go. Downtown San Jose offers an easy daily commute with the best transit access in the Silicon Valley and travel is simple when the San Jose Airport is only 3.5 miles away with options taking you door to door. Only 1 mile away, Diridon Caltrain Station is the place where all public transportation services converge. Whether you walk, bike, ride, or drive, downtown San Jose is the place to be.
World Class Entertainment. The SAP Center is ~ 0.7 miles away from 188 West St James. Affectionately referred to as the "Shark Tank", the arena is home to national hockey team, the San Jose Sharks, hosting more than 40 regular season home games. The building offers more than 170 event days per year— including a rotation of guests from Olympic athletes and Grammy award-winners to a variety of family and children's favorites.
Dog Friendly. San Jose is a place for dog lovers to soak up the sun and have fun with plenty of parks and trails for walking, playing and exploring. Enjoy a short walk to Hart's Dog Park in downtown or to SoFa Pocket Park Dog Park. Take a pedicab ride with your pup in tow on Eco City Cycles. Visit Ryland Dog Park which is tucked beneath the underpass bridge at North San Pedro Street and North Market Street or grab a bite in the open-air across the street from 188 West St James at San Pedro Square Market, where well-behaved dogs and their human companions are always welcome or enjoy one of the many dog-friendly patios and pubs around town.
Rich with History. While San Jose's story is still unfolding and looking to the future, roots run deep and memories of the past can be found around every corner here. It's a city rich with history and ready to explore at nearby historical attractions including: California Theatre, Chavez Family Home, History Park, Japanese American Museum of San Jose, Japanese Friendship Garden, Montgomery Theater, Peralta Adobe – Fallon House, Luís María Peralta Adobe, Thomas Fallon House, the oldest existing theater in San Jose – San Jose Improv Comedy Club, San Jose Museum of Art, Winchester Mystery House, The Tech Museum of Innovation, and much more.
Endless Outdoor Exercise. Our downtown San Jose location offers a wide variety of breath-taking ways to spend your day in the fresh-air. Visit one of San Jose's 200+ parks or take a jog along 61 miles of developed scenic trails in one of the nation's largest urban trail networks. Your options are endless with Alum Rock Park and Los Gatos Creek to Guadalupe River Trail leading to the Lake Almaden and the Los Alamitos Creek trail systems. Others include Guadalupe River Park & Gardens, Alviso Marina County Park and Coyote Creek.
A Creative Community of Local Makers and Artisans. San Jose is bursting with local artisan shops, makers and craftsman, artists, designers and emerging brands. San Jose Made showcases over 4,000 products made by some of your favorite makers, artists, designers and small businesses. Shop online and pick-up your orders and shop in-person at the SJMADE Store, one of the micro-retail storefronts that make up MOMENT.  Local Color San Jose is a Woman-Powered Nonprofit building multifaceted opportunities that keep creatives engaged, employed, and active in our community. Mural City, all totaled, downtown is home to 125 murals.  Downtown Doors is an artwork competition that turns into a public exhibition on downtown streets. More than 100 service doors and utility boxes located on public and private buildings downtown are covered with a vinyl coating on which original art works are enlarged and transferred.
Active & Evolving. Despite being one of the oldest cities in California, San Jose is growing with over 50 developments currently underway, including ~16 million square feet of new office space, ~300,000 square feet of retail, hotels, housing and more. We're looking forward to a world-class urban park in the heart of Silicon Valley, Levitt Pavilion San Jose. Mere moments from 188 West St James in downtown San Jose, Levitt Pavilion San Jose will transform the northeast portion of St. James Park into a venue for 50 free, family-friendly concerts each year. The SWA San Francisco Master Plan boasts three new parks coming to the neighborhood at the foot of 188 West St James. Pellier, North San Pedro, and Bassett Parks are exciting additions to downtown San Jose and each brings its own strong identity. High value investment continues in the core of San Jose, including Google's planned Downtown West project, Adobe's new tower and the CityView Plaza development.
Start your own love story with downtown San Jose. We invite you to discover the best of downtown San Jose daily living at 188 West St James. Our location offers everything at your doorstep. Schedule your private in-person or virtual tour at info@188weststjames.com or (669) 888-7888 and prepare to fall in love.
---