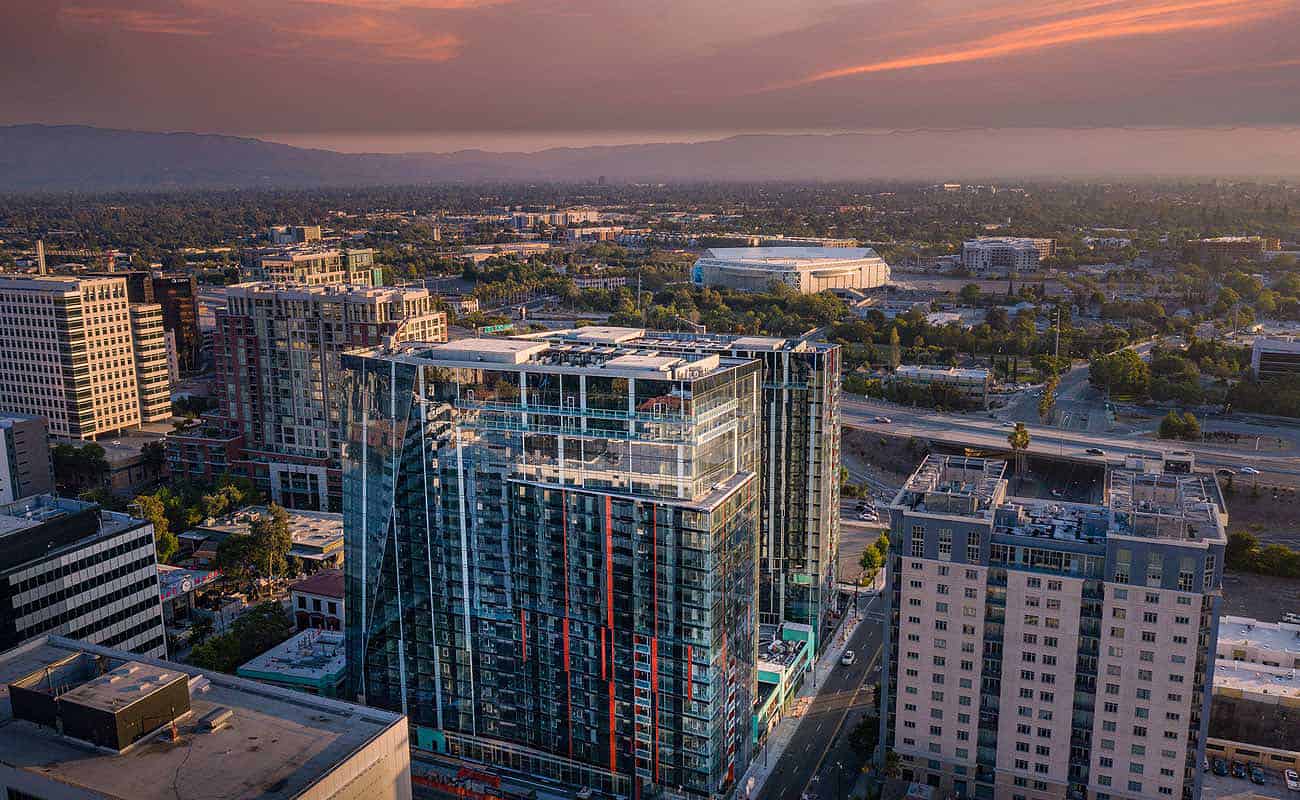 An iconic new address has arrived in downtown San Jose at 188 West St James. At 22-stories, the tallest residential building in San Jose history is also its most sleek. This luxury skyscraper offers more than a new home, it offers a mindset. Every moment here has been carefully crafted to streamline your life and optimize your biggest luxury: time.
Steps from San Pedro Square, 188 West St James is a pinnacle address for those who embody the growing energy of downtown. Home to luxury high-rise living with playful precision, premium studios, one-, two- and three-bedroom condominium residences offer sophisticated design, discerning services and a stunning collection of indoor and outdoor amenities—all converging to activate and inspire any ambition.
Linger over endless views of the city from the sleek serenity of home, where a generous, open floor plan comes complete with hardwood floors, plush carpeting, pure white oak cabinetry and a thoroughly modern sense of style. Ascend to the top floor of 188 West St James where the penthouses, exclusively available in spacious two- and three-bedroom floor plans feature a sleek collection of upgraded finishes. Stainless steel Miele appliances including two ovens, wine chiller, European cabinetry, custom-designed stone countertops, a Kohler bidet and more—define these premium dwellings, inviting lives extraordinarily well-lived.
188 West St James puts you in the very center of the Bay Area's most dynamic location – surrounded by the world's leading technology firms, filled with high-end retail and dining and connected to a vibrant, walkable neighborhood.  With an enviable address across the street from San Pedro Square Market, you have the very best of downtown at your door step. Buzzing with local restaurants, premium shops and a mix of transit options, this is where the insatiable Silicon Valley attitude meets an always-expanding plethora of culinary, social and entertainment experiences.
Love the San Jose Sharks? Catch a home game at the SAP Center less than a 15 minutes' walk away. Prefer a quiet night with good wine? Stroll over to The Farmers Union or District San Jose. And for those who delight in open-air markets, the Downtown San Jose Farmers' Market takes place each Friday, from 10am to 2pm featuring live music, street cuisine and fresh ingredients from local farmers, along a charming block of San Pedro Street between Santa Clara and St. John streets at the foot of 188 West St James. This is where neighborhood charm and character meet exceptional shopping and dining, creating a dynamic mix of everyday encounters and unique experiences. It's the perfect place to find a new direction.
Centered in one of the largest and most dynamic tech hubs in the world with headquarters for Adobe, Ebay, Intel, Cisco all within a 10-minute drive, plus Google's shuttle an ~ .9 mile walk to Diridon Station and Apple within a 15-minute drive, 188 West St James' location enjoys an economy and workforce that is driving innovation and growth like nowhere else.
San Jose and the South Bay are also home to some of the nation's leading universities and educational systems. From world class K-12 public schools all the way to higher education with Stanford, Santa Clara University and San Jose State minutes away, this area is at the forefront of education, research and leadership.
Here, you'll find work-life harmony is kept effortlessly in balance with in-building parking and WiFi throughout common areas that offer plenty of work from home spots, while on-site bike maintenance and storage provides an easy option for two-wheeled commuters. Cyclists will love the easy access to core trails like the Guadalupe River, Coyote Creek and Los Gatos Creek which extend a long distance and provide an opportunity for both recreation and commuting.
The distinctive Amenity Deck of 188 West St James has been curated to make every moment count. Lounge by the 75-foot lap pool and hot tub. Indulge in some leisurely yoga in the open air. Invite a few friends over to barbeque in the sun. Capturing the best of true indoor/outdoor living is what this intriguing level is all about.
Aptly appointed for both much-needed respite and unforgettable gatherings with friends, the Communal Lounge exists to fit your fancy. From the top-quality catering kitchen and generous wine fridge to the expansive doors opening breezily up to the sun-soaked amenity deck, every detail here has been engineered to make a lasting—and luxurious—impression.
Furthering San Jose's remarkably bright future is a lengthy list of new developments and transit additions in the downtown area, which are driving even more growth and bringing a vibrant, cosmopolitan feeling to the city as it continues to rise. This ever-changing skyline will define the Bay Area in years to come.
Take your place in the heart of San Jose and find yourself just moments away from the things that define an optimum life: a simple daily commute, effortless transit options, inviting restaurants offering cuisine from all over the world and enticing access to art, comedy, live professional sports and more.
Virtual tours are available, begin to explore your new home today.
---