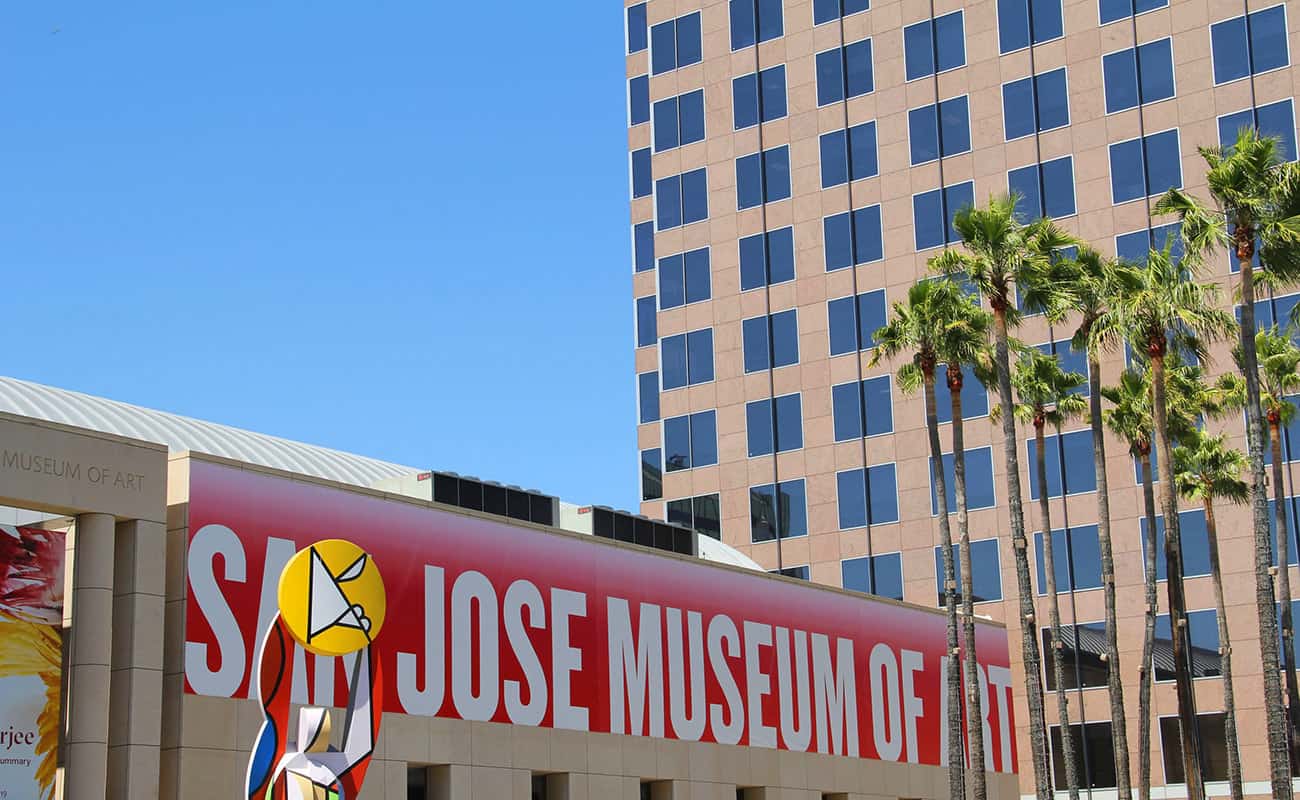 San Jose is a city full of discovery and innovation and at the heart of it is Silicon Valley's City Center, the ever-expanding neighborhood of downtown San Jose which is dynamic and diverse as it is inviting. 188 West St James boasts downtown San Jose living and easy access to experience an abundance of cultural offerings and attractions within close proximity to home. Never dull, always engaging – downtown has entertainment for everyone. We've mapped out a list of museums, theatres, stadiums and more:
San Jose Museum of Art, .5 miles from 188 WSJ. SJMA is a leading showcase in the Bay Area for modern and contemporary art, celebrates new ideas, stimulates creativity, and inspires connection with every visit. Welcoming and thought provoking, the Museum delights visitors with its surprising and playful perspective on the art and artists of our time.
San Jose Improv Comedy Club, .7 miles from 188 WSJ. The San Jose Improv delivers a mix of A-list comedians, food and cocktails within a historical theater setting.
The Tech Museum of Innovation, .8 miles from 188 WSJ. The Tech Interactive is a family-friendly science and technology center in the heart of downtown with hands-on activities, experimental labs and design challenge experiences empower people to innovate with creativity, curiosity and compassion.
San Jose Civic, .8 miles from 188 WSJ. This historic venue has hosted The Who, The Rolling Stones, Frank Sinatra, Diana Ross, Bob Dylan, Barbra Streisand and many other legends.
Hammer Theatre Center, .8 miles from 188 WSJ. The theatre serves San Jose's community and the university through programming that features student, local, and international talent. The Hammer's mission is to serve the community through works that illustrate the unique culture of creativity, diversity, and innovation in Silicon Valley.
Montgomery Theater, .9 miles from 188 WSJ. Conveniently situated in downtown and close to the San Jose Convention Center, with a Light Rail stop nearby and several parking lots in close proximity. With so many recent upgrades, this theater is truly beautiful inside and out.
San Jose Museum of Quilts & Textiles, 1 mile from 188 WSJ. Its exhibits and programs promote the appreciation of quilts and textiles as art, providing an understanding of their role in the lives of their makers, in cultural traditions, and as historical documents.
SAP Center, 1 mile from 188 WSJ. SAP Center hosts large concert events, Olympic and sporting championships, and is affectionately referred to as the "Shark Tank". For 25 years, the SAP Center has been bringing world-class events to Silicon Valley and continues to be recognized as the biggest success story in the ongoing revitalization of downtown San Jose.
Center for the Performing Arts, 1 mile from 188 WSJ. Built in 1972 by the Frank Lloyd Wright Foundation, this performing arts center offers large windows throughout the entryways, providing plenty of natural light and spectacular views of downtown San Jose while entertaining guests who come for shows from the San Jose Dance Theatre and Broadway San Jose.
Children's Discovery Museum, 1 mile from 188 WSJ. Children's Discovery Museum of San Jose inspires creativity, curiosity, and lifelong learning through immersive art, tech and science experiences and demonstrations.
California Theater, 1 mile from 188 WSJ. This beautiful theatre, originally built in 1927 and renovated and upgraded from 2001-2004, marries the opulence of its movie palace origins with state-of-the-art attributes, hosting a range of performing arts.
Japanese American Museum of San Jose, 1 mile from 188 WSJ.  The Japanese American Museum of San Jose showcases a unique collection of permanent and rotating exhibits chronicling more than a century of Japanese American history. The museum welcomes large groups to docent-led virtual tours each week.
San Jose Institute of Contemporary Art, 1.1 miles from 188 WSJ. The ICA San Jose is an energetic art space located in downtown San Jose dedicated to making contemporary art accessible and exciting to audiences of all ages and backgrounds.
Rosicrucian Egyptian Museum, 1.8 miles from 188 WSJ. Home to the largest collection of Egyptian artifacts on exhibit in western North America.
Japanese Friendship Garden, 2.9 miles from 188 WSJ. In every direction the eye is delighted, complete with picturesque Japanese bridges, waterfalls and golden Koi fish. Japanese Friendship Garden Self-Guided Walking Map.
History Park, 3.3 miles from 188 WSJ. This 14–acre gated park features 32 historic and replica buildings representing San Jose's past. Complete with paved streets, running trolleys and an old-fashioned ice cream shop, History Park offers the charm and ambiance of times gone by. Take a virtual tour.
School of Arts and Culture at the Mexican Heritage Plaza, 3.6 miles from 188 WSJ. The plaza is a place of education, culture, and community that celebrates the rich diversity of Silicon Valley. The beautiful spaces include a pavilion with retractable glass walls, an expansive plaza, lush gardens, a world-class theater and more intimate spaces. Creating a destination for more than a simple tour, the plaza also includes a theater lobby and courtyard, a gallery, a conference room, five classrooms, and a dance studio.
Levi's Stadium, 7.6 miles from 188 WSJ. Hosting over 100 major events to date with an average of 20 events per year, Levi's® Stadium has provided entertainment for fans across numerous platforms. Still in its infancy, the facility has already hosted some of the largest concerts and performances in the world.
---