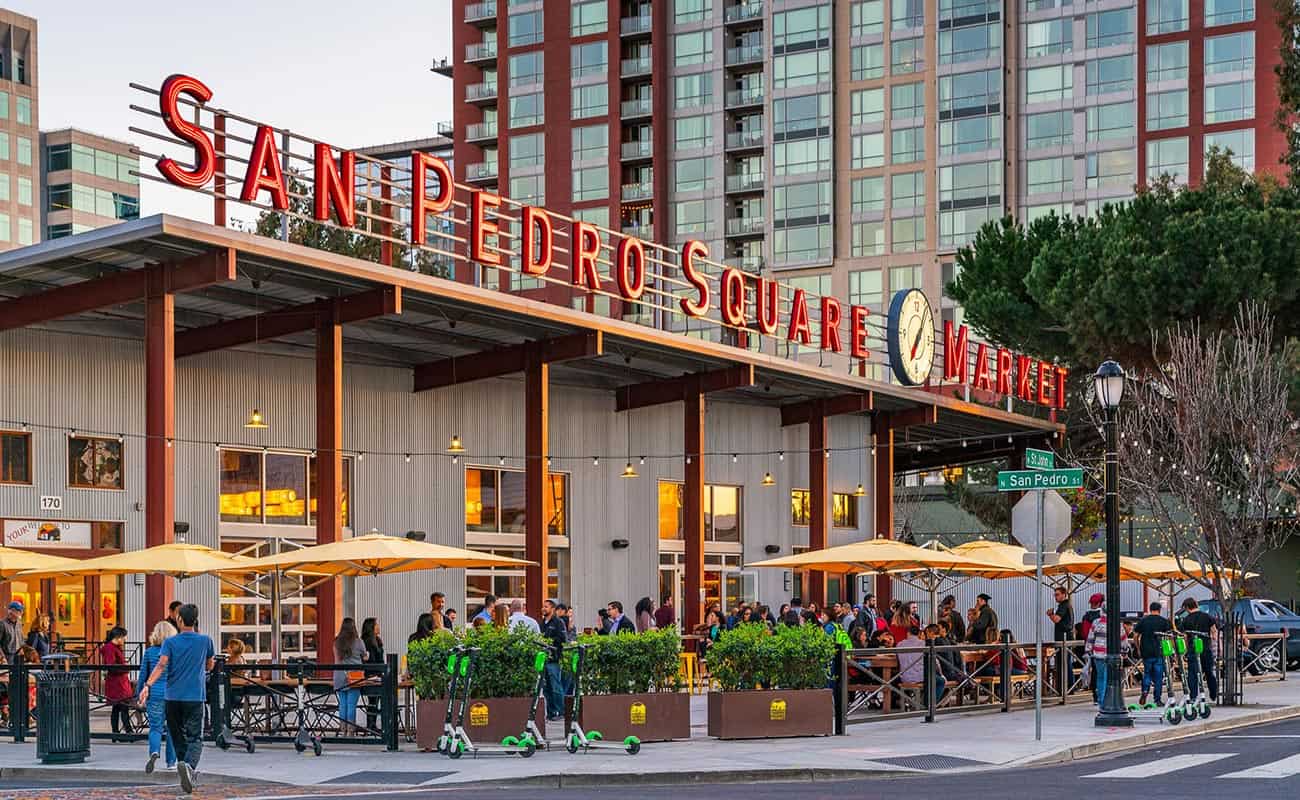 188 West St James boasts downtown living steps from the historic San Pedro Square and the San Pedro Square Market. In the spectacular urbanism of San Jose—Northern California's biggest city—a nexus location right across the street from San Pedro Square Market equals open-air entertainment and convenience year-round is always at your fingertips. Buzzing with local restaurants, premium shopping and public transit options, our location in San Pedro Square is where the insatiable Silicon Valley attitude meets an always-expanding plethora of culinary, social and entertainment experiences.
Alive with history, San Pedro Square's first restaurant opened its doors in 1972. These days, the neighborhood is known for its public market that plays host to some of the regions best culinary dining destinations all located in one handy hall.
San Pedro Square Market features both indoor and outdoor spaces. Enjoy al fresco dining year-round, plus pick-up and delivery with convenient online and walk up ordering. You can even get cocktails and craft beer to go. This vibrant public market features everything from sushi to tapas and beyond. Here's a look at some of our neighbors to date:
Anchors Fish & Chips and Seafood Grill. Anchors is a locally owned business that serves the freshest gourmet seafood in town from classic Fish & Chips to signature dishes like Oyster Rockefeller and fresh seafood entrees from the grill with sauces made in-house.
Hyland House of Sushi. Hyland House of Sushi is a family-owned and operated business, with roots in San Jose. They provide the highest quality sushi made with love and creativity to make sure every sushi experience is an amazing one.
JORA Peruvian Food. JORA is a first-class gastronomic service that seeks to bring Peruvian food to another level.  For the most discerning and daring palates who are willing to discover the magic that hides more than a century of culinary tradition, JORA's menu is waiting for you.
Loteria Taco Bar. This gourmet taco restaurant serves juicy, braised meats—from Habanero Mango Chicken to Beef Barbacoa—in homemade tortillas, crispy yucca fries, guacamole and more. The menu has expanded to include salads, tostaditos, nachos and fried sweet plantains.
On A Roll. On A Roll offers Vietnamese dishes, inspired from home-cooking, with house-made sauces and touches of Thai & Chinese influences. Enjoy everything from Chicken Coconut Curry to Bahn Mi.
Pasta Fresca. Homemade Italian cuisine at the SPS! They make pasta and sauces from scratch and use locally sourced ingredients, offering oven dishes like Meat or Vegetable Lasagna, Mac 'n' Cheese, Butternut Squash Ravioli and dishes made to order.
Phonomenal Noodle House. This noodle house serves traditional Vietnamese Pho—a piping hot bowl of noodle soup with meat and the choice of cilantro and bean sprouts on top. Special sausage rolls and rice dishes are also available.
Pizza Bocca Lupo. Authentic Neapolitan Style Pizza is served with fresh ingredients from a wood burning oven imported from Italy. Enjoy a taste of Naples, Italy when you order artisan, thin crust, fresh, personal size pizzas at this family-owned restaurant!
Robee's Falafel. Gyro, shawarma and kebab, plus falafel and dolma are on the menu! Don't forget the hummus. Please your Mediterranean taste buds with fresh and delicious food using fine ingredients and unique recipes from the heart of their village of Tashish.
Urban Momo. Urban Momo's owner, Purna Sherpa was born in Eastern Nepal in the mountainous region of Mt. Kanchenjunga. At the age of ten, he fled the mountains to the capital city Kathmandu and began working at a Momo restaurant as a dishwasher. He learned the process of Momo making by observing each and every detail that goes into the preparation of these delicious Nepali dumplings. Momo is served alongside other Nepali and Indo-Chinese specialties, plus Tandoori.
Urban Ritual. Founded in the heart of San Francisco, Urban Ritual is an American brand that aims to bring unity to everyone through a common daily routine—coffee and tea. From craft teas to boba cocktails, the creations are endless. Try the Crème Brulee made with honey boba and classic milk tea topped with crackling torched raw sugar!
Voyager. Sourcing and serving some of the best coffee on this green Earth. Voyager makes quality coffee accessible to everyone while taking customers on a unique flavor journey that brings joy and inspires a sense of wonder for the explorer in us all. Serving up gourmet toasts like almond butter and fresh strawberries, avocado with arugula or the popular Gochujang Hummus Toast made with Korean spices, hummus, black pepper and arugula – this is the perfect spot for Sunday mornings.
The Market is your game day destination or the perfect spot to unwind with three unique bars:
San Pedro Square Market Bar. SPS Market Bar is an informal, loft-like watering hole with classic & unique cocktails, craft beers and local wines. A mainstay in downtown San Jose, Market Bar is a place where local residents gather to drink and socialize.
Market Beer Company. Market Beer Co. is a modern tap room and retail shop. From game day to any day of the week, their 16 unique craft beers on tap and 270 hard-to-find bottled and canned options should cover your beer-loving needs.
Three Sisters. This stylish cocktail bar and gathering place, named after the three daughters of the 10th mayor of San Jose, is both vibrant and lively. Specializing in handcrafted cocktails, Three Sisters boasts a robust selection of whiskies, as well as local craft beers and wine.
San Pedro Square Market hours are:
Sunday – Thursday: 11am – 9pm
Friday & Saturday: 11am – 10pm
SPS Market is your neighborhood food hall with a mix of local, artisan restaurants and food-oriented boutiques offering a diverse assortment of cuisines from around the world. An ideal spot to enjoy live music, game days and conversation with friends and neighbors in the open-air plaza or sidewalk café, the luxury of al fresco patio dining, steps from your door at 188 West St James, is yours year-round.
---