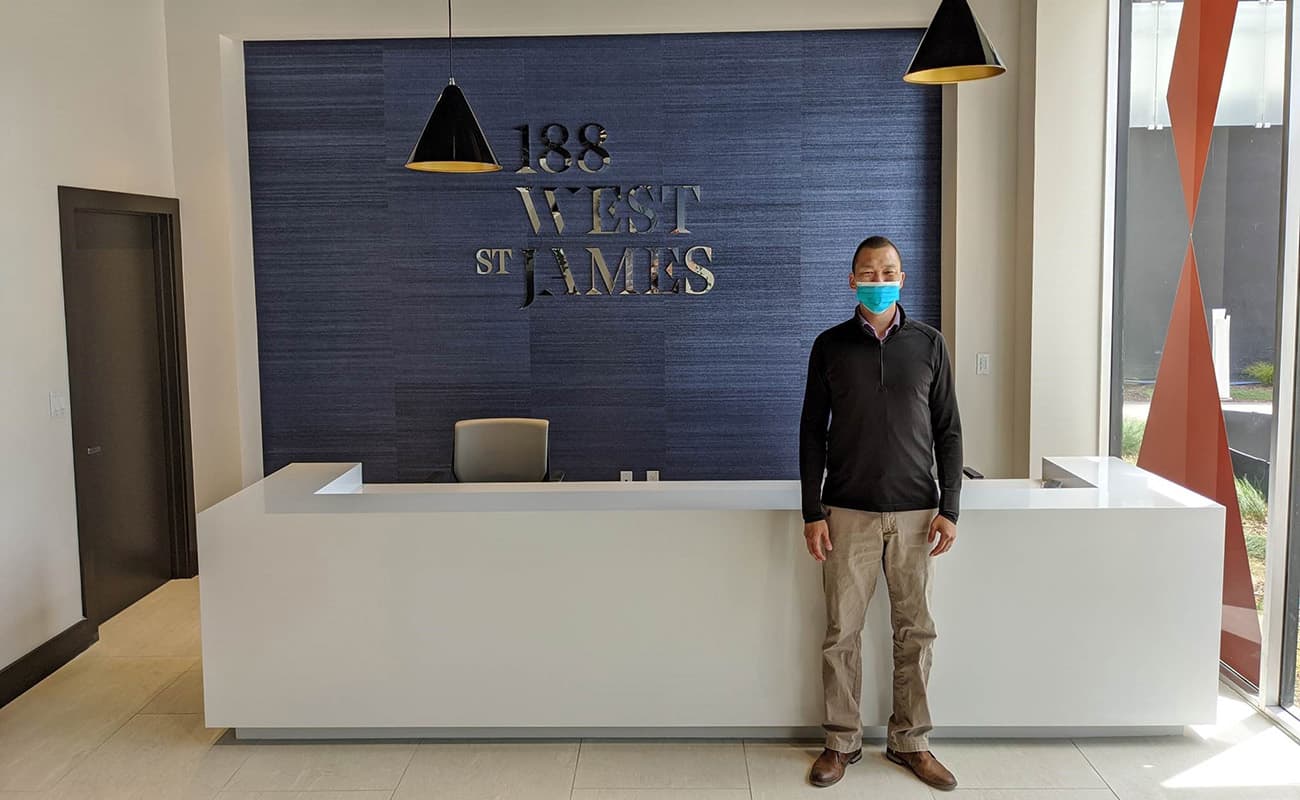 Sales Manager at 188 West St. James, Chris Lee was born and raised in San Jose, attended San Jose State University and even played for the SJSU Ice Hockey team, finishing with a 27-1-1 record earning them the top ranked collegiate ice hockey team in the western United States! With an extensive background in new construction and development, 188 West St. James was on his radar as the project to watch and he's thrilled to be a part of downtown San Jose growing up with two shiny new towers. Chris shares what sets this property apart, his favorite views, the outdoor amenities residents can look forward to living at 188 West St. James, and even his go-to bites nearby.
When asked to describe 188 West St. James in 3 words, Chris replied "Raising The Bar".
"A bustling, thriving Downtown San Jose was a mere pipe dream just 10 years ago when Axis first laid down its roots. Now, there's the anticipation of its inevitable transformation into an urban landscape the world has never seen before. 188 West St James raises the bar as the premier luxury high rise community in Silicon Valley. Every direction seems to have its own special draw but there's something about looking NW and watching a plane touch down on the runway at SJC with a real-time image of the San Francisco Bay Area as the background… that is hard to beat."
The distinctive amenities of 188 West St James have been created to fulfill everyday aspirations from lounging by the 25-yard pool and hot tub to utilizing the spacious patio and getting a workout in the versatile wellness studio. From moments of deep relaxation to life-optimizing efficiencies, the collection of premium perks creates an unprecedented level of ease between work, play and repose.
"If you ask me what amenity I'm most looking forward to being realized, hands down it's the resort-like pool area. Projects with the size and scope of 188 West St James are more uncommon than not."
What are buyers most surprised to learn about the building? "That we are perhaps the last building around that will offer a gas cook top and range as the world has already begun its shift towards an all-electric future."
San Pedro Square, just across the street from 188 West St James, plays host to endless opportunities to connect with friends… and uncovers new ones.  If you happen to be visiting for a tour, Chris recommends trying out  Pizza Bocca Lupo, saying "Order your own pizza because you'll finish it all at once." And if you are a boba tea fan, Chris recommends Breaktime Tea near SJSU: "It has been calling for me lately."
"The best part about the location of 188 West St James is its proximity to downtown's current offerings with the added benefit of knowing that the future of the area will be built around you. If you're not taking advantage of the major transit hub that is the Diridon Station, then 188's central location near major freeway arteries allows you to simply point your car in whatever direction you're headed for a sprinting start."
As recently noted in the Silicon Valley Business Journal, while attitudes toward urban environments may cause a long-term migration to the suburbs, three of downtown San Jose's most notable developers on Thursday reaffirmed their bullishness on doing projects in downtown – noting that downtown San Jose's future is looking strong.
"Google's planned Downtown West project is just the low hanging fruit when it comes to high-profile projects driving interest to the area. There's Adobe's new tower and the massive CityView Plaza development that are in progress from pre-COVID times. What's been telling to me is the continuation of high-value investments by developers into the Downtown San Jose area despite what all of COVID has done."
---