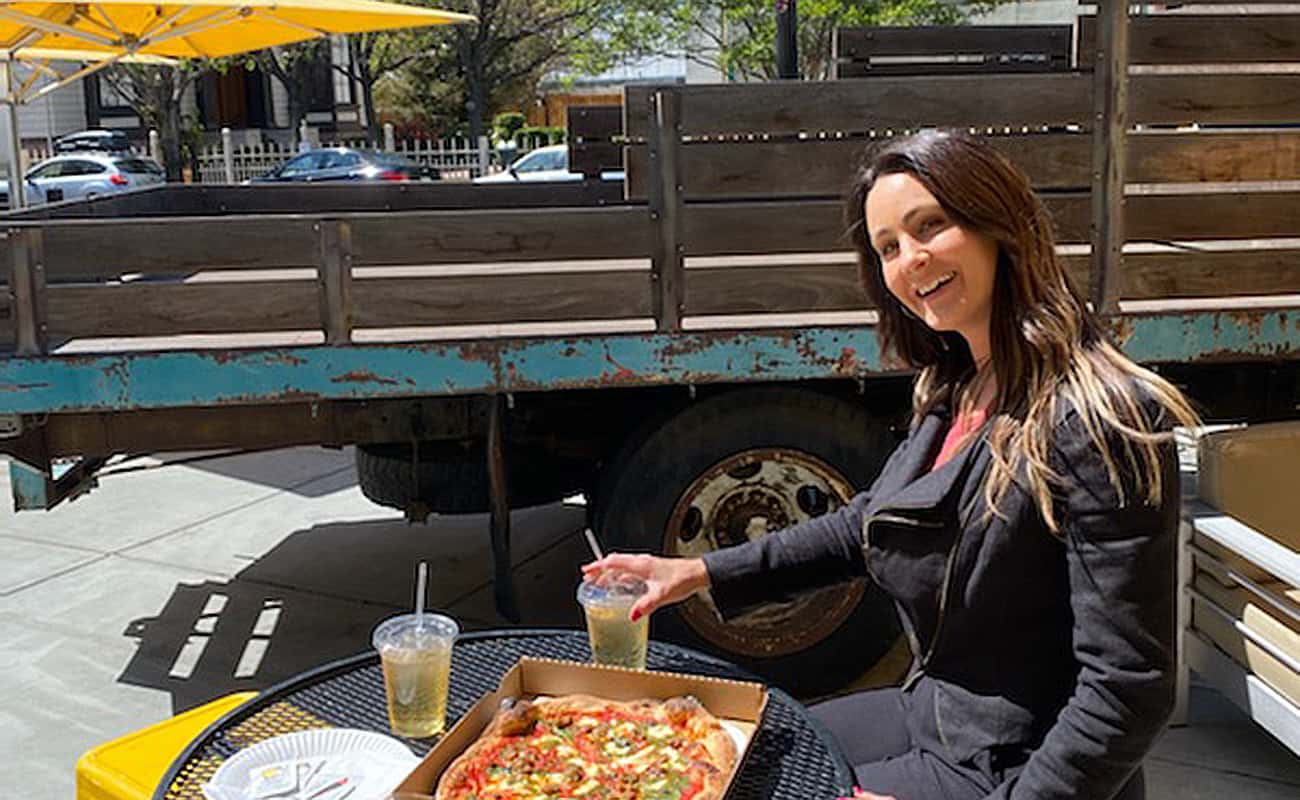 Kaylah LeDon, Sales Associate at 188 West St James, is originally from Washington State but has called the Bay Area home for the last 33 years. With 15 years of experience in new construction real estate, Kaylah knows what adds value to a new residence – including views. Her favorite view from the building is the southeast view from the 10th floor overlooking San Pedro Square and downtown San Jose which also happens to offer a great view of the pool! We caught up with Kaylah to share her favorite design features, what residents can look forward to living at 188 West St James, and even her favorite ways to enjoy our location in downtown San Jose.
At 188 West St James, a bold exterior gives way to interiors imbued with effortlessly chic comfort and design. Each new condominium home features hardwood floors, plush carpeting, pure white oak cabinetry with a thoroughly modern sense of style.
"I love the dramatic aesthetic of the angled glass walls; it's my favorite design feature. I also love the front lobby being on our signature northwest corner; it offers a very dramatic entrance into the building. Once inside looking out, the views in almost every direction are breathtaking; the southwest offers a full view of downtown San Jose, as well as a peak-a-boo glimpse of the east foothills, then a full scope of the western horizon. Sunsets are incredible from inside 188 West St James."
Between the open-air amenity deck and private outdoor balconies, the best views in San Jose's ever-expanding metropolis are yours for the taking. At the intersection of history, diverse cultures and future-forward innovation, 188 West St James is ideally placed on the pulse of the city.
What is one thing residents can look forward to living at 188 West St James?
"Without a doubt, location is one of the best aspects of our community. Being so close to restaurants, urban activity, and transportation is going to make living here ideal for our home owners."
In the spectacular urbanism of San Jose—Northern California's biggest city—a nexus location right across the street from San Pedro Square means the very best of downtown is at your fingertips. Buzzing with local restaurants, premium shopping and public transit options, it's where the insatiable Silicon Valley attitude meets an always-expanding plethora of culinary, social and entertainment experiences.
What are your favorite ways to enjoy daily downtown living? 
"I love leisurely strolls on Friday mornings for my weekly visit to the Farmer's Market. The whole community seems to know each other and gathers to say "hi" while stocking up on fresh fruits and veggies. They also get to enjoy the Indian and Thai street food." Kaylah recommends finding fresh berries from Vasquez Farms and bringing home a bag of Tony's kettle corn for the weekend.
"I also look forward to my evening walk through the al fresco dining row on San Pedro Street. Tables line the street and are filled with visitors enjoying a meal and drink with friends. There's a local musician that plays the saxophone most nights adding a classic ambiance to the evening mood."
"The best part about having the San Pedro Square Market right across the streets is the crowd it draws. The outdoor dining along San Pedro Street as well as the back patio of the market is a community gathering place, which also brings people from all around to enjoy great food, ambiance and often times live music. The vibes are great and everything California urban living should be."
Discover the best of downtown San Jose daily living at 188 West St James. Our location offers everything at your doorstep. Schedule your private in-person or virtual tour with Kaylah at info@188weststjames.com or (669) 888-7888 and see for yourself. We cannot wait to show you around.
---