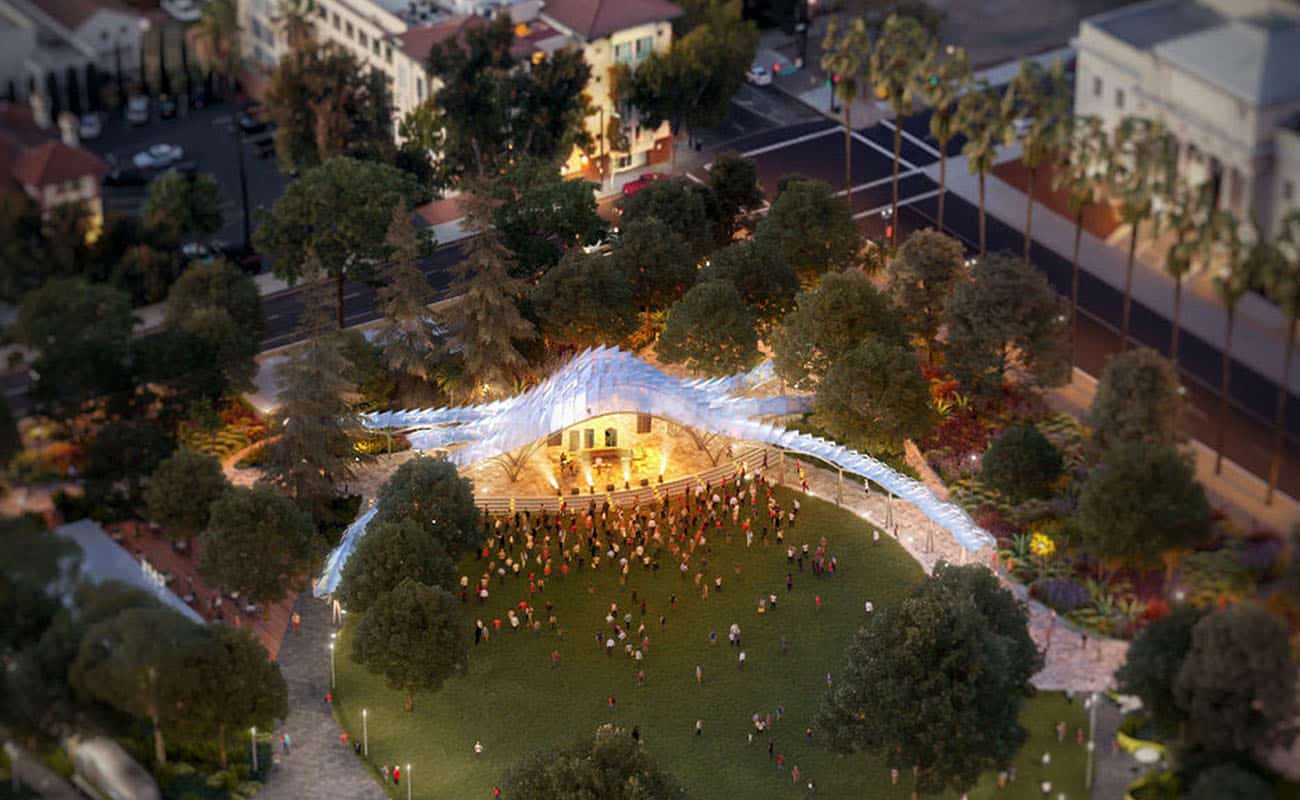 Coming soon to a park near you: a world-class urban park in the heart of Silicon Valley, Levitt Pavilion San Jose. Mere moments from 188 West St James in downtown San Jose, Levitt Pavilion San Jose will transform the northeast portion of St. James Park into a venue for 50 free, family-friendly concerts each year.
"Our design for the San Jose Levitt Pavilion, supported by the Levitt Foundation and The Friends of Levitt San Jose, took its initial inspiration from music and performance. Three suspended structures flow together to form a dramatic central crescendo, then fade away into the surrounding urban forest. Dubbed the 'Dragon Pavilion' by local residents due to its serpentine-like glowing form, the pavilion's suspended overlapping panels give the structures a sense of dynamism and buoyancy. In the evening these dramatic sculptural panels, set against a backdrop of tall trees and plantings, will create a light-filled icon for the park, neighborhood and city." – Future Cities Lab
The Mortimer & Mimi Levitt Foundation is dedicated to reinvigorating America's public spaces through creative placemaking and creating opportunities for everyone to experience the performing arts.
The City of San Jose shares that the project includes both physical and programmatic changes to St. James Park, an approximately 7.5-acre urban park in downtown San Jose.
Physical changes to the park include, but are not limited to:
–    construction or installation of a performing arts pavilion
–    streetscape improvements
–    a central plaza; small commercial buildings (e.g., cafés, vendors, or a beer garden)
–    public restrooms (temporary portable and/or permanent)
–    gateway monuments that include signage and lighting features
–    improvements to the public transit stops
–    an outdoor fitness cluster
–    an interactive water feature
–    temporary loading zones for park events
–    designated vendor spaces or food truck parking
–    equipment for computer/internet use throughout the park and landscape amenities
Programmatic changes to the use of the park include, but are not limited to, new music and performing arts events at the performing arts pavilion; and new commercial uses at the park (such as a café or vendors), street performers, festivals, and a farmers' market.
The winter 2020 newsletter announced that Levitt Pavilion marked a major milestone in the journey towards a music stage at St. James Park with the City Council's unanimous approval of the Environmental Impact Report (EIR) for the proposed project that would revitalize St. James Park, including the development of the proposed Levitt Pavilion. Also approved was the Historic Preservation Permit (HP permit) required for the development of the Levitt Pavilion.
"The pavilion fits seamlessly into the new St. James Park network of pathways and lawns. The shade canopies create an inviting place to stroll day and night. Shade canopies wrap around the lawn adjacent to the new park cafe. One of the driving concepts of the pavilion was to create an open structure that would be light-filled and transparent to allow the citizens to enjoy the shade canopies throughout the day as well. The pavilion would support programs such as an open-air cinema at night, concerts, recitals and theatrical performances." – Future Cities Lab
Future Cities Lab is now FUTUREFORMS, an art and design studio based in San Francisco, CA. Founded by Jason Kelly Johnson & Nataly Gattegno. View more renders in the works here and follow along on Instagram @futureformslab
Image Credit: FUTUREFORMS
It's all at your fingertips. In a region renowned for always asking what's next, 188 West St James offers a fresh standard of luxury—the luxury to define your own direction. Extraordinarily connected to downtown San Jose, here is a home designed to enhance every facet of your dynamic lifestyle, from the most ambitious bouts of inspiration to well-deserved repose; where you're empowered to chase your own chosen future and pioneer a whole new set of priorities entirely your own. After all, life is what you make of it. Make yours here.
---