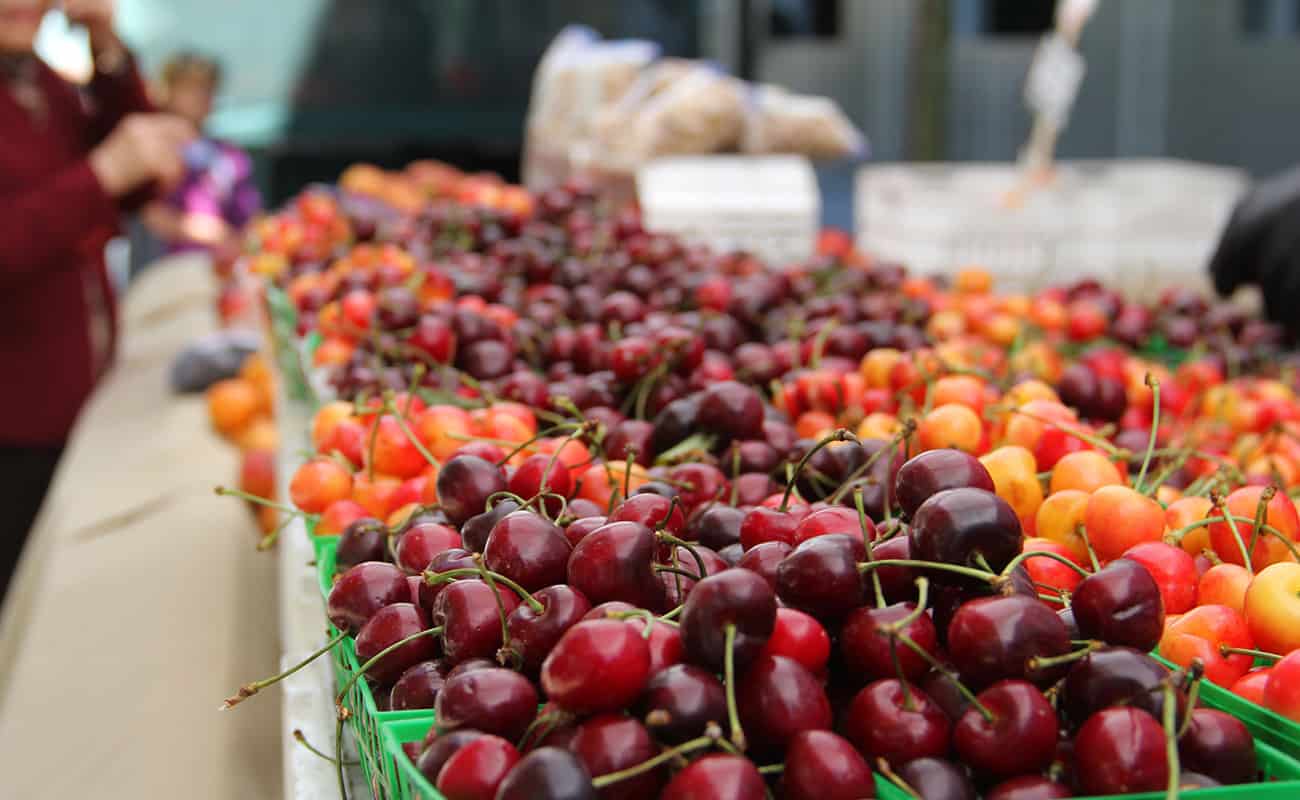 Known as Silicon Valley's City Center, the ever-expanding neighborhood of downtown San Jose is as diverse and dynamic as it is inviting. Greet the growers and meet the makers behind the food on your plate at the Downtown San Jose Farmers' Market. There is nothing quite like that friendly face each week greeting you in person with their seasonal bounty. Explore farm fresh ingredients in the open-air, enjoy live music and get to know the personalities and passions behind each table. The very best of the Bay Area's produce is at your fingertips as the Downtown San Jose Farmers' Market returns on May 7, 2021, popping-up every Friday from 10am to 2pm.
The DTSJ Farmers' Market started in 1993 and spent its first 7 seasons in the "Block 2" surface parking lot on San Fernando Street between First and Second streets. For the past 21 years, San Pedro Street between Santa Clara and St. John streets (the foot of our community) played home to the popular mid-day Friday market.
This season the Market is on the move! In order to accommodate Al Fresco dining for downtown's restaurant row along San Pedro Street, the Farmers' Market will pop-up in the heart of the SoFA District – specifically a one-block stretch of South First Street between San Salvador and William streets, just a short stroll from 188 West St James. You can hop on the VTA with stops that place you right at the Market. This year, for its 29th season, about 15 fresh vendors and numerous artisans will set up show every Friday.
What's in season? Early season fruits include apricots, blueberries, strawberries, cantaloupes, cherries, nectarines, peaches, plums, prunes and raspberries. Vegetables sold include artichokes, asparagus, arugula, peas and garlic. Breads and baked goods, fresh fish, cheeses, honey, cut flowers, olive oils and vinegars, wine, jams – all locally grown or made – frequent the market during the season. Artisans sell their crafts, jewelry, soaps, lotions, scarves, candles and clothing.
Try whipping up some of these delicious recipes with your farmers market bounty:
Strawberry Chard Salad. A sweet and easy salad, great for a quick refreshing starter plate.
Grilled Leeks with Cara Cara Orange-infused Butter. Grilling brings out the mild taste of leeks and when you add a tangy orange sauce, the flavor shines through.
Smashed Fava Beans with Mint. Great as a side dish or on top of a grilled baguette.
Roasted Asparagus with Parmesan Cheese. By roasting asparagus it brings out more of the earthy flavor and Parmesan adds a nice creamy sharpness.
Radish Salad. This quick and easy salad can have its taste changed with different varieties of radishes.
Pacific Coast Farmers Market Association (PCFMA) has been SJDA's partner for all 29 years of the event. PCFMA was founded in July of 1988 and currently manages over 50 farmers' markets, making it the oldest and largest farmers' market association on the West Coast.
---